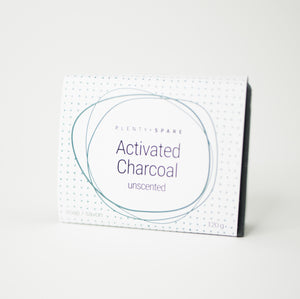 Plenty and Spare

Fear not, we've left this mysterious bar of activated charcoal soap unscented, for an ultra gentle lather that's easy on your sniffer.
Created for: lake lovers and sensitive souls
To Use:
Lather up and rinse clean.
About our classic soap bars:
Our classic soap bars are amazing for everyday use, and are often the first and last stop for our customers with delicate and high maintenance skin. Full of beautiful clays and essentials oils, the lather is creamy, moisturizing, and exceptionally gentle. Plus, these bars last a good long time. Palm free. Not vegan.
Ingredients:
Saponified local tallow, saponified oils of olive and coconut, activated charcoal, clay