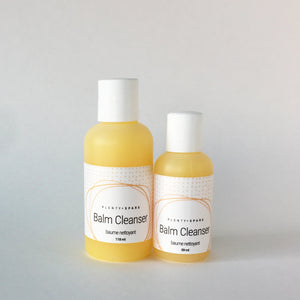 Please note, due to difficulty sourcing 2 oz bottles consistently, our Balm Cleanser is currently available in one size, the larger 4 oz bottle.
Plenty and Spare

This is our trapped-on-a-desert-island-gotta-have-it cleanser. Incredibly versatile, you can use it as a daily makeup remover + cleanser in one, or as the first step in your double cleansing routine. It works wonders at removing makeup, oil, sweat, and dirt, all without stripping or over - drying your skin.
Created for: wishful thinkers and the perpetually late
To Use:
To remove makeup, apply to dry skin and massage. Add warm water, and continue to massage, transforming the cleanser into a light milky wash. Massage with more water as needed, and rinse well.
For a lighter cleanse, massage over damp skin and rinse well.
Ingredients:
jojoba oil, fractionated coconut oil, rice bran oil, 2 myreth-10 adipate, polyglycerol-3 beeswax, sweet orange oil, calendula (marigold) flower extract, vitamin e (from non-gmo sunflower seeds)