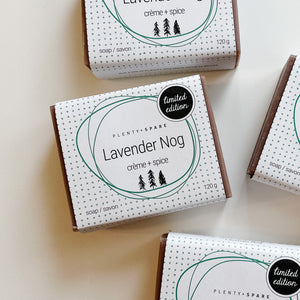 Limited Edition!
Spiced lavender and cream ... a dreamy and relaxing blend to help every winter creature get their zzz's
To Use:
Lather up and rinse clean.
About our classic soap bars:
Our classic soap bars are amazing for everyday use, and are often the first and last stop for our customers with delicate and high maintenance skin. Full of beautiful clays and essentials oils, the lather is creamy, moisturizing, and exceptionally gentle. Plus, these bars last a good long time. Palm free. Not vegan.
Ingredients:
Saponified local tallow, saponified oils of olive and coconut, phthalate free fragrance, essential oils, clay