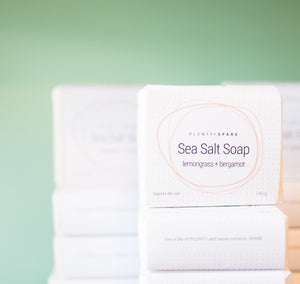 Plenty and Spare

Achieve your squeakiest dreams with a polished blend of sea salt, lemongrass and juicy bergamot essential oils.
Created for: fuss budgets and the perfectly poised
To Use:
Lather up and rinse clean.
About our sea salt soap:
Made for ocean worshippers and salty sailors, our sea salt soap bars are packed with pacific sea salt to bring our beautiful coastal ocean into your daily bathing routine. Ideal for balanced and oily skin types, and wonderful to use after a good sweat. Palm free. Vegan.
Ingredients:
Saponified oils of coconut and olive, saponified shea and mango butter, sea salt, lemongrass essential oil, bergamot essential oil, clay